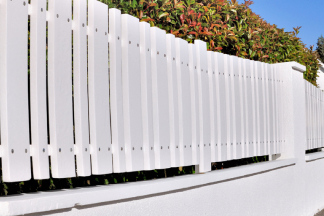 Are you tired of looking at that aging wooden or metal fence that's seen better days? If your fence shows signs of wear and tear, consider an upgrade. PVC fencing, known for its longevity, low maintenance, and aesthetic appeal, could be the perfect solution. This blog post will explore when and why you should switch to a PVC fence with Fancy Fence.
Signs That It's Time for an Upgrade
Rotting or Warped Wood: Wooden fences are vulnerable to rot, warping, and decay over time, especially in moist or humid climates. If your wooden fence has begun to rot or has warped boards, it's a clear sign that it's time for a replacement.
Rusty and Corroded Metal: Metal fences, while durable, can succumb to rust and corrosion, particularly in areas with high humidity or exposure to moisture. If your metal fence is marred by rust spots or weakened by decay, it may compromise its structural integrity and appearance.
Peeling and Chipped Paint: Painted fences require ongoing maintenance, including repainting to maintain their appearance. If you're tired of the constant need to scrape, sand, and repaint your fence due to peeling or chipped paint, PVC fencing offers a paint-free alternative.
High Maintenance Costs: If you spend significantly on fence repairs, staining, or repainting year after year, switching to PVC can help you save money in the long run. PVC fences are virtually maintenance-free, requiring only occasional cleaning.
Faded or Dull Appearance: Over time, exposure to the elements can cause your fence's colors to fade or become dull. PVC fences maintain their vibrant appearance for many years, enhancing the curb appeal of your property.
Benefits of Upgrading to PVC Fencing
Durability: PVC fences are designed to withstand the harshest weather conditions, including heavy rain, snow, and intense sunlight. They won't rot, warp, or corrode, ensuring a long-lasting investment.
Low Maintenance: PVC fences need to be improved. Maintaining their pristine appearance usually just involves a quick rinse with a garden hose. Say goodbye to the hassle of scraping, painting, or sealing.
Aesthetic Appeal: Fancy Fence offers various PVC fence styles, colors, and textures to match your property's aesthetics. Whether your preference leans toward the timeless charm of a classic picket fence or the modern sleekness of a privacy fence, you'll find a PVC style that perfectly complements your taste.
Environmentally Friendly: PVC is a recyclable material, making it an eco-friendly choice for your fence. Its longevity means fewer materials are used over time than traditional wood fences.
Increased Property Value: Opting for a PVC fence upgrade can significantly boost your property's curb appeal and overall value, rendering it an appealing choice for homeowners considering a sale.
Take your time with your old fence becoming an eyesore or a safety hazard. Elevate your property with a PVC fence from Fancy Fence, and experience the advantages of an attractive, long-lasting, and hassle-free fencing solution. Contact us today to explore our PVC fence options and transform your property into a showcase of elegance and longevity. Your fence will maintain its splendid appearance for years, granting you extra time to relish your outdoor space without the burden of continual maintenance.