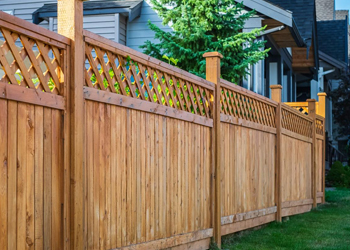 In safeguarding privacy and security for your home, wood fences have stood the test of time as a reliable and aesthetically pleasing solution. At Fancy Fence, we understand the importance of creating a safe and private outdoor space. In this blog post, we will explore the substantial significance of wood fences in safeguarding your home and providing the peace of mind you deserve.
Privacy at Its Best: A primary reason homeowners choose wood fences is the unparalleled privacy they offer. With a solid wooden fence, you can create a secluded oasis in your backyard, shielded from prying eyes. Whether enjoying a family barbecue or simply relaxing outdoors, a wood fence provides the necessary seclusion.
Aesthetic Appeal and Property Value: Wooden fences are not just about function; they add beauty and value to your property. Their natural, timeless charm complements various architectural styles and landscapes. When you invest in a wood fence from Fancy Fence, you're investing in your home's aesthetic appeal and resale value.
Enhanced Security: Privacy often goes hand in hand with security, and a wood fence can be a reliable barrier to deter unwanted visitors. You improve your home's security by making it more challenging for intruders to access your property.
Children and Pet Safety: For families with children or pets, wood fences offer a safe and enclosed outdoor space where kids can play freely, and pets can roam without worry. It's a protective environment that keeps your loved ones safe.
Noise Reduction: Wood fences can also reduce noise, helping to create a more peaceful and serene environment within your property. It is particularly beneficial if you live in a busy neighbourhood.
Customization for Your Needs: At Fancy Fence, we understand that every home is unique, and so are each homeowner's privacy and security needs. With our customizable wood fence options, you can tailor your fence to suit your specific requirements, whether you need extra height, decorative elements, or added security features.
Low Maintenance and Longevity: When properly maintained, wooden fences can last for many years. They require minimal maintenance to retain their integrity and appearance, ensuring long-term privacy and security for your home.
An Eco-Friendly Choice: 
Choosing wood as the material for your fencing can have environmentally friendly advantages. Wood is an environmentally conscious choice for your home.
In conclusion, wood fences from Fancy Fence offer an exceptional blend of privacy, security, and aesthetic appeal for your home. Whether you're looking to create a secluded retreat, protect your property, or enhance the visual appeal of your outdoor space, a wooden fence can be the perfect solution.
To explore the various wood fence options available and find the ideal design for your home, contact Fancy Fence today. We're here to help you transform your outdoor space into a secure, private haven that reflects your style and needs.