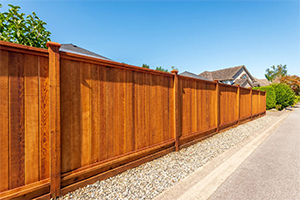 A wood fence not only enhances the aesthetics of your property but also provides privacy, security, and a defined boundary. To ensure its longevity and durability, proper maintenance and care are essential. In this blog, we will share valuable tips to help you extend the lifespan of your wood fence, preventing common issues such as rot, weather damage, and pest infestations.
Regular Cleaning
Regularly cleaning your wood fence is a crucial step in its maintenance. Use a soft brush or a pressure washer with a low-pressure setting to remove dirt, debris, and mildew. Ensure the fence is completely dry before moving on to the next steps.
Inspection and Repairs
Regularly inspect your wood fence for any signs of damage, such as rotting, splitting, or loose boards. Address these issues promptly to prevent further deterioration. Replace any damaged boards or components and tighten loose screws or nails.
Staining or Painting
Applying a protective stain or paint to your wood fence can significantly extend its lifespan. Stains or paints create a barrier that shields the wood from moisture, UV rays, and other environmental elements. Follow the manufacturer's instructions and choose a high-quality product suitable for outdoor wood surfaces.
Sealant Application
Applying a wood sealer is another effective way to protect your fence from moisture, which can lead to rot and decay. Sealants create a waterproof barrier that prevents water absorption into the wood. Apply the sealer according to the manufacturer's instructions, ensuring complete coverage.
Proper Drainage
Ensure that the area surrounding your wood fence has proper drainage. Poor drainage can lead to excessive moisture accumulation at the base of the fence, increasing the risk of rot and decay. Grade the ground away from the fence to promote water runoff and consider installing gravel or drainage solutions if necessary.
Trim Vegetation
Overgrown vegetation can promote moisture retention and trap debris against your wood fence, accelerating deterioration. Regularly trim bushes, vines, and tree branches that come into contact with the fence. Maintain a small gap between plants and the fence to promote airflow and prevent moisture buildup.
Pest Prevention
Wood fences can be susceptible to pest infestations, such as termites and carpenter ants. To prevent these pests from damaging your fence, keep the area around the fence clear of woodpiles and debris. Consider using pest-resistant wood or applying appropriate treatments to deter pests.
Seasonal Inspections
Perform seasonal inspections to identify any potential issues that may have arisen due to changing weather conditions. Make necessary repairs or touch-ups to ensure your fence remains strong and resilient throughout the year.
With proper care, your wood fence will continue to enhance your property's beauty, provide privacy, and stand as a reliable boundary for many years to come. If you're in need of fence installation, repairs, or routine maintenance, look no further than Fancy Fence Ontario. Our team is ready to assist you with all your fencing needs. Don't hesitate to reach out to us for expert service and exceptional results.